EasyVSL 3.0 is the newest version of one of the world's most popular Video Sales Letter creators.
You need No Powerpoint, No Photoshop and, No Extra Software. The software is easy to use and an integrated one-stop-shop for your VSL production needs.
It involves 4 easy steps: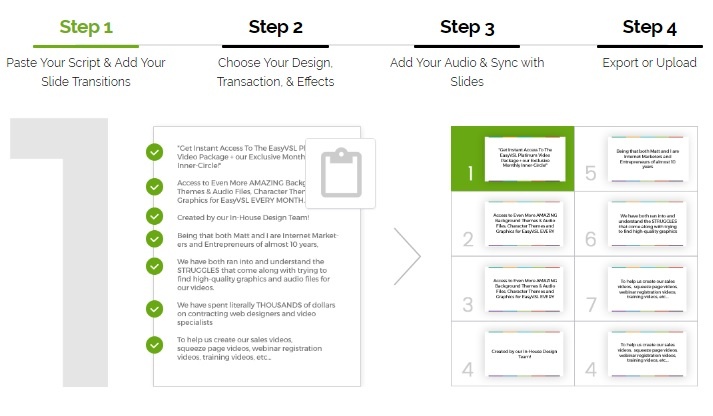 The previous versions of EasyVSL had many amazing features already, but version 3.0 has come up with the trending and most expected conversion boosting features.
The Features of EasyVSL 3.0 include:
Kinetic Animation – selection of 10 themes
This is a brand new feature in the new version of EasyVSL. Kinetic animations allow you to

create visually engaging VSLs

using animated text.
Automated Speech Recognition
EasyVSL 3.0 offers a wide range of

in-built voices to read' your text.

You can create audio for your video with the natural sounding voices.
Instant Image Search Library (1,000,000 and more royalty free images)
No more searching for the perfect image or graphics. With this feature, you can quickly

find the perfect image

to add to your VSL. Think of all the time that will save!
Sound effects library
No need to find sound effects using another program or searching online for the perfect sound to add audio animation to your project. EasyVSL 3.0

has a whole library of sound effects

including a range of sounds that you can add to your video sales letter. Need to add the sound of birds? Or the sound of the ocean? No problem, they're included in the library.
Share EasyVSL presentations between computers
This is the perfect feature if you use different computers or need to share files with colleagues. With EasyVSL 3.0,

you can import, export and share

with other computers that also have EasyVSL.
Compatible with YouZign-created images.
If you've created images on YouZign, you can use them in your VSLs created on EasyVSL 3.0. If you haven't created images on YouZign, then you can still

search over 1,000,000 royalty free images

to use in your project.
EasyVSL is a High-Converting Video Sales Letter, Created from Start to Finish in UNDER 60-Seconds!

Here is a Quick Demo!

Let's talk about a few more features it has apart from the newly added ones:
User-Friendly Interface
Building on its reputation as software that simple and easy to use, EasyVSL interface is straightforward, making the application accessible to all users regardless of video editing ability as no experience is necessary to use this software. It's a point and click system and tutorials are available for new users or those who wish to familiarize themselves with the new features of EasyVSL 3.0
Time-saving features
EasyVSL is designed to save you time when creating videos. In particular, the bulk action' feature allows you to

quickly apply characteristics or edits to your entire project

without the time intensive work you may have had to put into PowerPoint or other video creators.
Wide range of background designs and themes
The inbuilt designs and themes on EasyVSL 3.0 are not just attractive but they are also

professional

, giving your videos a polished, eye-catching appearance.
Customize your fonts
With a wide range of fonts to choose from, you can customize your videos with fonts to represent your product.

Use existing video clips
You can save time by using your existing video content and importing clips into your VSL projects.
Compatible with both Mac and PC
Because EasyVSL 3.0 is

an Adobe Air-based software

, it is suitable for use on both Mac and PC so regardless of what hardware you use, you can access the program to create your Video Sales Letters quickly and easily.
Translates into 30+ languages
Possibly one of the best features of EasyVSL 3.0 is the one-click translation feature. The software translates your content into over

30 languages

, creating multiple videos for all of your foreign-language markets.
Record and Edit audio
If you prefer to use your own voice to read your text or to create your own audio files, there is a brilliant voice recording feature that allows you to do just that. You can record and edit your own audio and fit it to your video as you wish.
Publish your videos directly to video sharing platforms
EasyVSL 3.0 creates

ready-to-publish videos

so you can upload your videos directly from the application to your online accounts on YouTube, Vimeo and other video sharing sites. There's no need for exporting, converting, uploading and other time-consuming tasks. EasyVSL 3.0 is designed to save you the time and make sharing your content as easy as possible.
Quick keys to save you time during your edit
This version has introduced a number of quick keys to eradicating any repetitive actions and streamline your workload to save even more time. Now, rather than repeatedly clicking and selecting, you can brilliantly

issue commands with a keystroke

similar to many professional video editing packages.
Turn your slides into PDF Presentations
You can

convert your video sales letter into PDF presentations

easily with this feature, so for occasions where PDF may be a suitable presentation medium, you have the option available at the click of a button.
Easy to use timeline editor improved from older versions of the software.
The timeline editor on EasyVSL allows for precise and controlled editing of your video sales letter. The timeline editor on the 3.0 version is intuitive and simple to use.
Imports instantly – PowerPoint, Keynote
Have your projects been created on PowerPoint or Keynote until now? No problem, they can be imported instantly and easily to EasyVSL 3.0 so you can

easily use previously created presentations

.
What's Good about EasyVSL 3.0?
It's got a great reputation
EasyVSL 3.0 builds on the success of its predecessors and with a track record of high conversions, the new features and improvements made to this version can only improve on this success. With more than 40,000 marketing professionals worldwide now using EasyVSL, the solid reputation of the software has been well earned.
One of the best things about EasyVSL 3.0 is that it integrates so many elements that there is no other apps or software needed to complicate the process of creating a video sales letter.
Your VSL can be created in minutes and you don't need to know anything about video production. The interface and features are so user-friendly that it only takes minutes to familiarize yourself with the software. Even if you haven't used previous versions, you will quickly become an expert at using EasyVSL 3.0
This is an incredible feature. With the click of a button, you can meet your international marketing strategy. Now that's impressive.

What's Not so good about EasyVSL 3.0?
The only problem with EasyVSL 3.0 is that it costs way too high, whereas programs like PowerPoint are free.
That said, if you weigh up the amount of time that you will save by using this product and the value added by some of the features, it's an investment well worth making.
My Final Verdict (Review)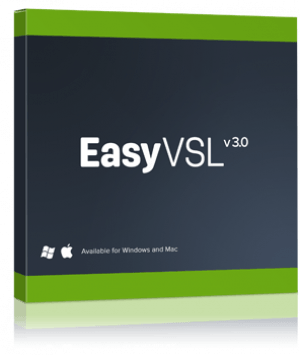 Product Name: EasyVSL 3.0 version
Product Creators: Mark Thompson and Matt Callen
Money-Back Guarantee – 30 Days, 100% satisfaction.
Cost Today: Check here


Product Rating: 4.5 out of 5.
Overall, it's not a surprise that EasyVSL is the #1 Bestselling VSL creators in the world.
One of the top marketers say:
"VSLs have helped me in several of my niche websites over the past few years to triple the earnings per visitor from several different offers. This has resulted in easily an extra million dollars or more (it's hard to measure precisely due to other factors, but the impact has been HUGE). EasyVSL puts VSL making on steroids making it 10x easier than ever before with their push button software. Highly recommended."
It's got a very impressive range of features and the improvements made to features of older versions will undoubtedly continue to result in the highest conversion rates.