Facebook advertising has grown over time and evolved to help a number of people. Since a large number of users are now on Facebook, businesses and marketers are using this platform to advertise and earn revenue through their ads.
People all over the world are using this simple method to earn a good amount of money while working barely at all.
Connectio is a Netherland based company which aims to provide people with best tools for Facebook marketing and advertising. The tools provided by this company can be easily used to make advertisements more effective and take a lead over other advertisers.
The company regularly updates their tools and comes up with solutions to smarten up the advertising process. The products developed by the company are helpful for all sizes of businesses and can be easily used with no prior training.
Why use Connectio – ConnectExplore?
Although Facebook advertising is a successful and profitable venture, many people find it difficult due to common mistakes.
According to the company experts, there are 3 mainly made mistakes made by Facebook advertisers which damage the earnings from ads. They are:
Trying to attract the same audiences
Targeting everyone who is inside within the interest
Not evaluating the efficiency of current strategies or what works.
The founders of connectio "identified" that these problems exist in most of the ads. After much research, they have developed ConnectExplore which is an application to eradicate these shortcomings of advertisers.
It definitely helps you automate and optimize your Facebook advertising 🙂
The Connectio – ConnectExplore tool was tested while advertising for UpViral which is a platform by Connectio to promote contests and giveaways.
The tool was able to generate $7000 in earnings while only spending $3000 on Facebook Ads during the initial testing.
P.S. – These statistics are purely real and have sparked an interest in the online advertising community.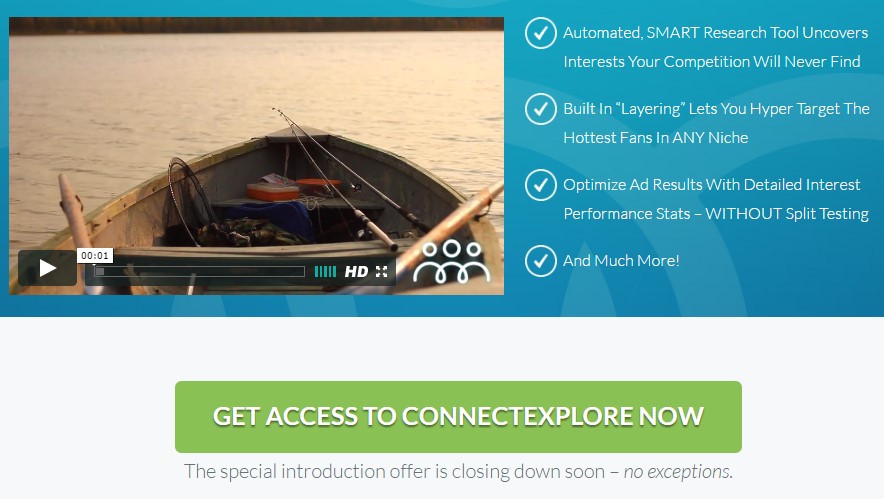 A few amazing features of ConnectExplore (Connectio)
ConnectExplore works through a simple user interface and offers various helpful tools for people. Some of the notable features of this software are:
ConnectExplore helps to

find interest on ads

which Facebook Ads Manager or Audience manager won't be able to offer. The "audience search" tool can be easily used to search the interests by entering one word along with a reference word and language to find different interests of people. The interests can be easily selected from the panel to be added into the preference list. The preference list offers an option for suggestion and to easily apply the interests to Facebook Ad set.
"Page Search" is another feature of this software which helps the user to

search for pages

on Facebook according to a specific keyword or interest. The pages can easily be filtered to match interests and show ideal choices for advertising upfront.
Another available feature "Explore Pages" can be used to

view different pages liked by a popular Facebook page

. The user can then check the liked pages in filtered results for advertising. This method is a simple way to discover new visitors in a short amount of time. The pages liked by popular people and communities on Facebook are often a good platform for placing ads which generate steady and ample revenues.
Once you get an initial list of interests, ConnectExplore suggests an additional list of highly-related suggestions to target through "Automated Suggestions"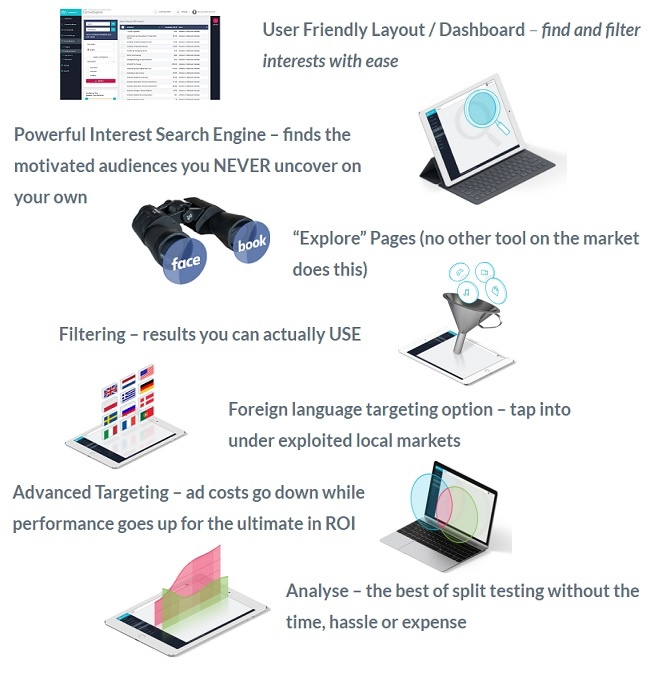 Additional advantages of this tool which make it the perfect option for advertising are given below:
Selects Audience carefully using filters
While showing an advertisement, Facebook targets all the people who have liked that page. The ConnectExplore instead uses different filters to select specific audience for advertisement.
This way, a good response is observed from the audience as they have been targeted based on certain criteria fulfillment as set by the user.
The revenues generated with the help of layering are far more in comparison to general targeting adopted by Facebook.
Monitors effective interests and manage different ads
ConnectExplore is also a great tool for monitoring different ads and performance of interests. Users can simply view the performance statistics of their different ads and choose to remove the interests which are not performing adequately.
This helps in reducing the expenditure to a great extent and eliminates the need to view the performance of each advertisement one by one.
People can learn more about Facebook advertising through informative videos and articles which are available on the company's blog.
A Quick Demo to Connectio ConnectExplore Dashboard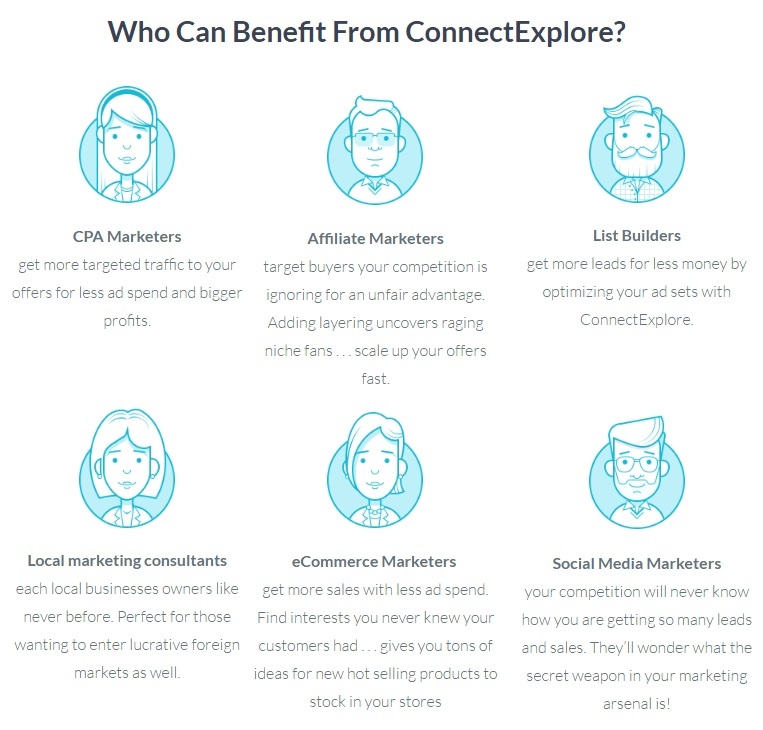 My Final Verdict about Connectio:
Overall, this is a great tool to optimize and monitor Facebook advertising. It uses effective techniques to generate more revenue and also helps in reducing the costs of advertising.
The Connectio – ConnectExplore offers a wide variety of options which can be employed to avoid excessive research and save time on monitoring the advertisements as well.